CORRELATE
Build instruments by correlating metrics from any source. This is a great tool for fire-fighting or just building a grouped set of metrics and saving them as an instrument that you can then display on a dashboard. Saved instruments are listed on the Instruments page.
We think of the hierarchy as metrics -> instruments -> dashboards.
Selecting a metric.
To correlate metrics, start by searching for metrics. When you start typing the metric name in the search box it will narrow down the list of metrics displayed. You can also use the infinite scroll to find the metrics you want. Simply hover over the metric to reveal a '+' then click on the '+' to add the metric to the instrument. By default the metric is added with a wildcard '*' as the source. Metrics that are already added to the instrument have a green check mark.
Selecting a source type.
Once a metric is added to the instrument you can change the source. Click on the target symbol in the source column to get the source selection menu. All sources (*) is set by default. You also have the option to select dynamic source or specific source.
Selecting dynamic source let's you select the source dynamically. To learn more about dynamic sources please read the "Instrument and Dashboard Templates" knowledge base article.
When you select specific source, a search box appears. When you start typing the source name a list of source options is displayed. After you have selected a metric / specific source combination you will notice that that metric can be added again from the metric list. When you hover over the metric the green check mark turns into a '+' again. If you selected All for the source you will be able to pick the
average,
sum, or
breakout (each individual source will be shown separately)
...across all of the metric's sources. Each metric will have its own y-axis unless you set the metric attributes so that metrics share a y-axis.
Annotations.
The pencil icon on the left displays the annotation stream. To learn how to add annotations to an instrument, please read the Annotations knowledge base article.
Instrument Attributes
Clicking on the cog icon on the left opens the Instrument Attribute panel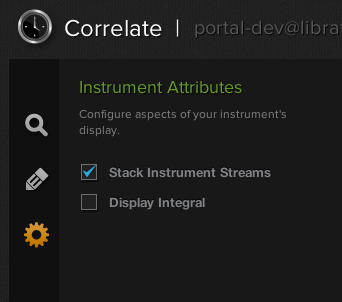 Stacked Graph.
If you have several metrics that make sense to display as an aggregate (e.g. cpu.system and cpu.user) you can select the "Stack Instrument Streams" box.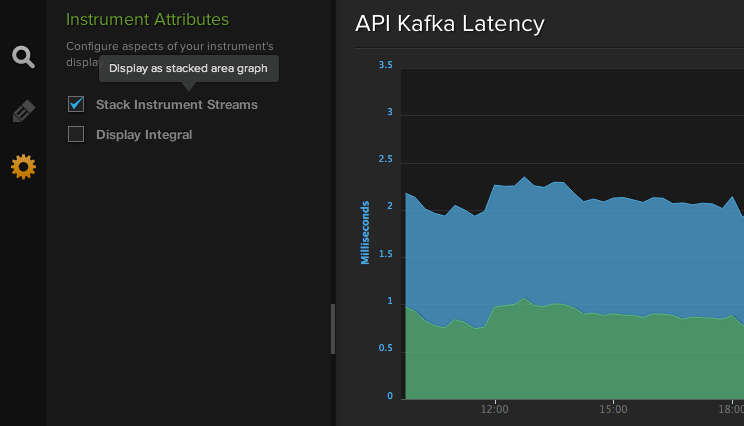 Display Integral.
The "Integral" check box allows you to display an integral of the metric across the selected time period - it shows as a number superimposed on the graph.
Save your work!
Don't forget to save your configuration so that you can quickly refer to it in the future or you can add it to a dashboard. Every instrument you save is listed on the Instruments page.
Next step... create a dashboard!